SEATTABLE - SEATorTABLE - YOU CHOOSE
SEATTABLE is the ultimate solution for multipurpose areas. A comfortable chair and table in one piece of furniture. Thanks to its discrete handle on the back, it can be transformed from seat to table and back in just a second. So all it takes is one smooth "flip" action. That gives you unparalleled flexibility to decide – how many SeatTables to be chairs, and how many to be tables. A complete hall can be rearranged within minutes. And you can do that without having to bring in or out any additional furniture. SEATTABLE is covered by international patent for invention and patents for design by Furnit LTD. SEATTABLE is registerd trade mark of Furnit LTD.
Providing shorter set-up / breakdown times in your facilities. Each individual event specifics will determine how many SEATTABLE would be used as seats or tables. So You no longer need to bring out or in furniture when you are rearranging the space.
The ability to stack onto a light and maneuverable matching trolley is what makes it even easier to completely clear a room, freeing available space when needed. Dedicated storage space for tables and chairs will no longer be a necessity.
It features clear lines with comfortable ergonomic forms. The large practical worktop and generous seat ensure comfort. The frame design enables the chair to fit comfortably to the table. And that allows to customize available workspace without any efforts.
Built to the highest quality standards, SEATTABLE is designed and manufactured with particular attention to detail. Certified to meet ANSI/BIFMA (USA), LGA (Germany) and JIS (Japan) standards, quality and safety are assured.
Available in multiple colours, finishes and upholstery options, it suits virtually any environment. Such as university, training, conference, institutional, library, museum, hotel, hospital, etc.
The only solution where 12 work desks and seats can be transformed into auditorium seating for 24 in just one minute is SEATTABLE. And there is no need for extra staff or additional furniture.
   The ability of SEATTABLE to stack over a clever designed trolley, makes it easier to clear a room, and to free  space for other purposes when needed. Storage space that is dedicated for tables and chairs will no longer be in need.
   One trolley holds max.12 pieces. Besides for stacking and easy distribution along the room, it can be used as a base for projectors.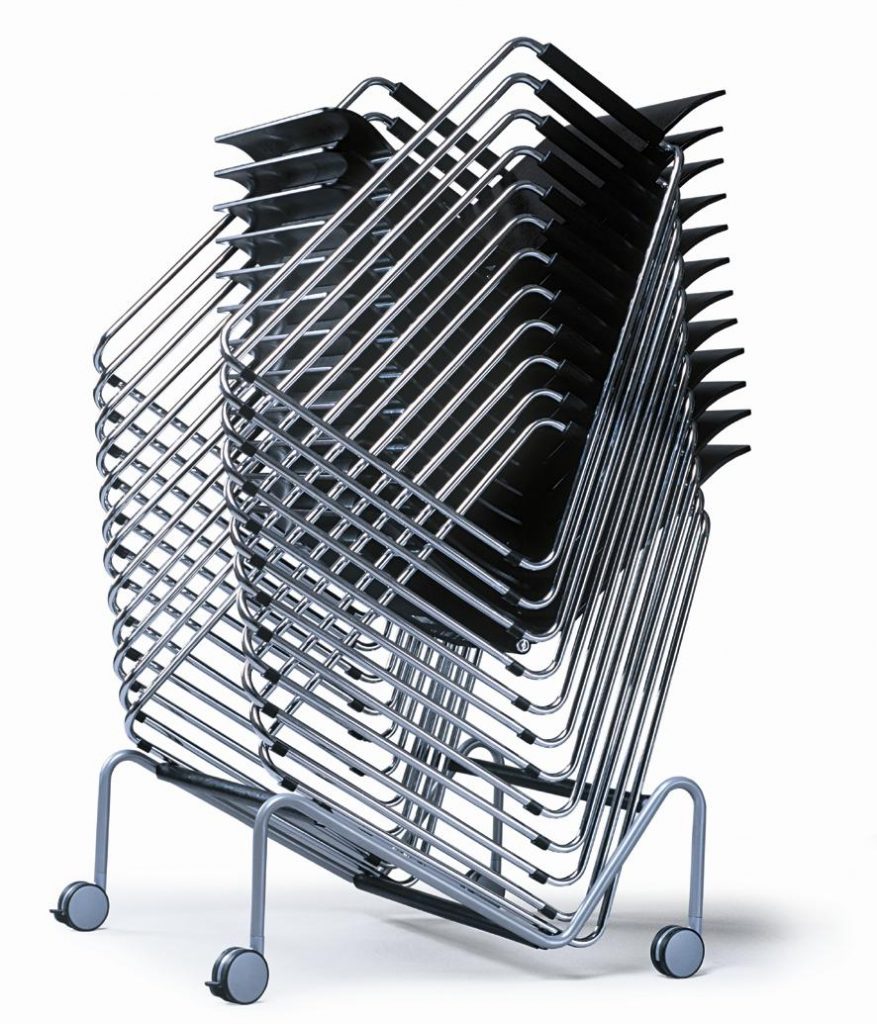 Durable and comfortable SantopreneTM armrests.
SEATTABLE is offered with 3-year warranty and its mechanism is tested for more than 20 000 circles of transformation.
ARMRESTS
Durable and comfortable SantopreneTM armrests.
EASY TRANSFORMATION
The discrete handle on the back ensures smooth and quick transformation.
FIXING IN ROWS
Whit a simple bracets SEATTABLE can be fixed in rows.
TECHNICAL SPECIFICATION
Dimensions as chair: 61 x 65 x h87 cm
Dimensions as table: 61 x 65 x h74 cm
Dimensions of trolley with max. 12 seattables: 68 x 90 x h151 cm
Weight and packaging
Standard packing is 4 pcs. in cartoon 78 x 65 x h91 cm
Gross weight: 42 kg with packaging
Net weight per piece: 9,75 kg
Weight and packaging of trolley
Standard packing is 3 pcs. in cartoon 80 x 83 x h37 cm
Gross weight: 25 kg
Net weight: 5,3 kg
COLOURS AND FINISHES
DRAWINGS